Sports Profiles -

JUST PASS THE LINK . . . . . . . . . . . . .
About our Founder/President - Why "Sports Profiles"?


The Founder and President of Sports Profiles USA LLC, Gary (G-Man) McClendon is an ex-professional athlete. For most of his life, Gary was a star athlete in multiple sports football, basketball and track. He has always enjoyed competing and has played with the best.
Gary played in the Dallas Pro AM League against some of the best professional basketball players in the country. While playing in the Dallas Pro AM League, Gary had a role in a movie with Nancy Lieberman, a former professional basketball player who played and coached in the Women's National Basketball Association (WNBA). In the movie Gary and Nancy played professional basketball players who took their Dallas basketball team to a championship. The movie was call Perfect Profile. Perfect Profile was very memorable for Gary, so when it came time to naming the company and the product, it just made sense to name them "Sports Profiles."
During Gary's career he also coached college basketball. In the 90's, Gary moved to Atlanta, Georgia where he meet Roger Hines. Roger was the assistant Strength and Conditioning Coach for the Atlanta Hawks. Gary volunteered his services and worked with Roger in the pre-practice pick-up games before Coach Lenny Wilkens would start practice. It was an honor to watch Coach Wilkens and observe his knowledge of the game.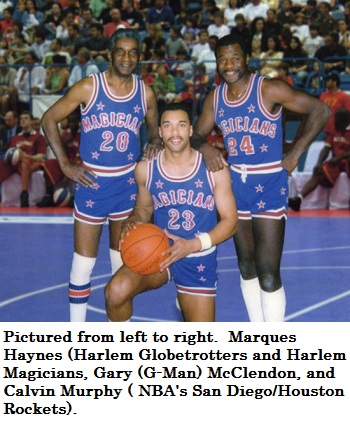 The person who had the biggest impact on Gary was Marques Haynes, a professional basketball player who was known for his amazing dribble and ball handling skills. As a young child, Gary was fascinated by Marques Haynes when he played for the Harlem Globetrotters. After playing in the Dallas Pro AM League, Gary had an opportunity to play for and with Marques Haynes as a Harlem Magician. It was a dream come true. He learned so much from Mr. Haynes about life, business and of course basketball.
Calvin Jerome Murphy is an American retired professional basketball player who played as a guard for the NBA's San Diego/Houston Rockets from 1970 – 1983, and is a current member of the Houston Rockets' Root Sports TV broadcast team. Standing at a height of 5 feet 9 inches, Murphy has the distinction of being the shortest NBA player inducted into the Basketball Hall of Fame, and to play in an NBA All-Star Game. (Source: Wikipedia).
Marques Haynes was estimated to have played in at least 12,000 games and visited more than 100 countries. Haynes retired in 1992 after a 46 – year professional career, and was inducted into the Naismith Memorial Basketball Hall of Fame in 1998, the first Globetrotter to be so honored. On January 5, 2001, he received his "Legends" ring from the Harlem Globetrotters in Chicago. The Globetrotters also retired his #20 jersey in his honor. (Source: Wikipedia).
In honor of Marques Haynes, the life he lived, the lives he touched and the impact he had on the world, Gary has created "Sports Profile Legends". A tribute to the best ball handler and dribbler the world has ever known.
Click here to view Marques Haynes, Sports Profile Legends website.
Provide Feedback
Please complete the form below and let us know what you think about the Sports Profiles.